About Living 82 MD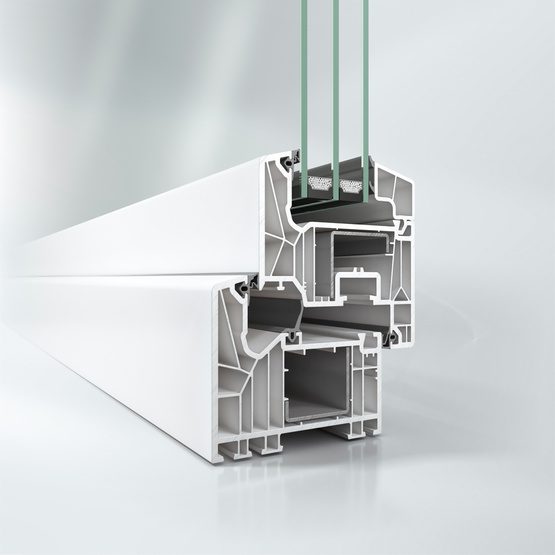 Thanks to revolutionary gluing-in technology, the resistance of the window to burglary is improved (the glass pane cannot be pushed away from the wing, even in the case of levering out the glazing moulding); the window has a firmer structure; there is no sinking of wings. The STANDARD OL+ window features triple insulated glazing and represents a higher standard for a reasonable price.
Production automation guarantees higher manufacturing quality and, if the glass breaks, it is possible to replace it without damaging the seal.
Request Product Catalog
Standard OL+ Properties
Exceptional thermal insulation with triple glazing
Thermal transmittance coeficient of the whole window U = 0.17 (U.S/I-P) with 4-12-4-12-4 glazing.
Central seal
The central seal greatly enhances the thermal insulation properties of the window, protecting the fittings against weathering and providing high water resistance – the profile resists water penetration up to 2,100 Pa (obsolete, but still used, cheap profiles without any central seal resist water penetration only up to 600 Pa)
Base 5-chamber profile with seal
For anchoring the exterior and interior sill (a critical point for the formation of thermal bridges with profiles featuring fewer chambers)
Profile color
The profile color can be customised with a coating using the RAL colour range or by lamination using films faithfully imitating a wood surface or a material with a soft plastic structure which are resistant to UV radiation
Additional profiles
for connecting window frames at various angles and the supporting profiles featuring steel reinforcements for static loading allow the implementation of any architectural designs
Possible ALU clip finish
The profile system provides protection from the exterior side by hard and durable aluminium cover with custom finish – anodised aluminium, laminate finish, RAL coating
Technical Specification
| | |
| --- | --- |
| Profile chambers | 5 |
| Construction depth | 70mm / 2" 3/4 |
| Glasses | 3 / TGU |
| Glazing type | 4-12-4-12-4 |
| U (window) | 0.17 (U.S/I-P) |
| U (glass) | 0.12( U.S/I-P) |
| | |
| --- | --- |
| Min width | 15" 3/4 |
| Min height | 15" 3/4 |
| Max width | 55" 1/8 |
| Max height | 94" 1/2 |
| Sound mitigation (Rw) based on glazing and size | 34-47 dB |