About Alu Inside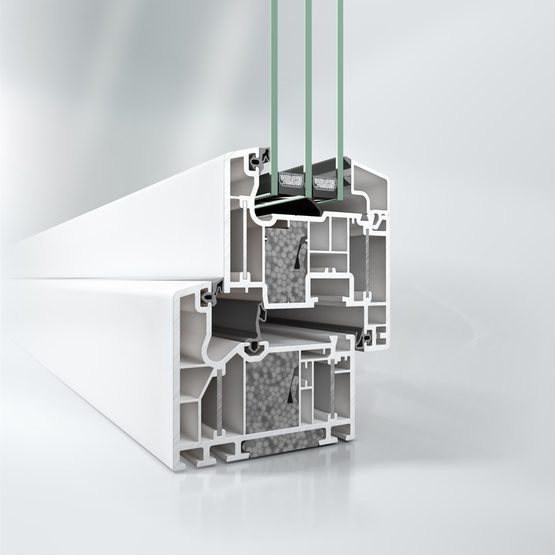 The profile system is specially designed for triple glazing of up to 61 mm thickness. With top thermal insulation properties, it helps you save up to 35% in terms of thermal insulation compared to 5-chamber uPVC windows.
Thanks to revolutionary technology, in the wings of new uPVC windows Gemi uses glass firmly glued to the wing. Gemi's uPVC windows are thus lighter and safer, while the profile is prevented from gradually pulling away from the glazing. This enhances window resistance to burglary because the glazing is firmly connected around the entire perimeter (the glass pane cannot be pushed away from the wing, even in the case of levering out the glazing moulding).
Production automation guarantess higher manufacturing quality and if the glass breaks, it is possible to replace it without damaging the seal.
Request Product Catalog
About Alu Properties
Top thermal insulation with triple glazing
Thermal transmittance coeficient of the whole window U = 0.14 (U.S/I-P) with 4-16-4-16-4 glazing.
Warm central spacer
SGG Swisspacer U
Central seal
The central seal greatly enhances the thermal insulation properties of the window, protecting the fittings against weathering and providing high water resistance.
Base 6-chamber profile with seal
For anchoring the exterior and interior sill (a critical point for the formation of thermal bridges with profiles featuring fewer chambers)
Possible ALU clip finish
The profile system provides protection from the exterior side by hard and durable aluminium cover with custom finish – anodised aluminium, laminate finish, RAL coating
Technical Specification
| | |
| --- | --- |
| Profile chambers | 6 |
| Construction depth | 85mm / 3" 3/8 |
| Glasses | 3 / TGU |
| Glazing type | 4-16-4-16-4 |
| U (window) | 0.13(U.S/I-P) |
| U (glass) | 0.1( U.S/I-P) |
| | |
| --- | --- |
| Min width | 15" 3/4 |
| Min height | 15" 3/4 |
| Max width | 55" 1/8 |
| Max height | 94" 1/2 |
| Sound mitigation (Rw) based on glazing and size | 34-47 dB |